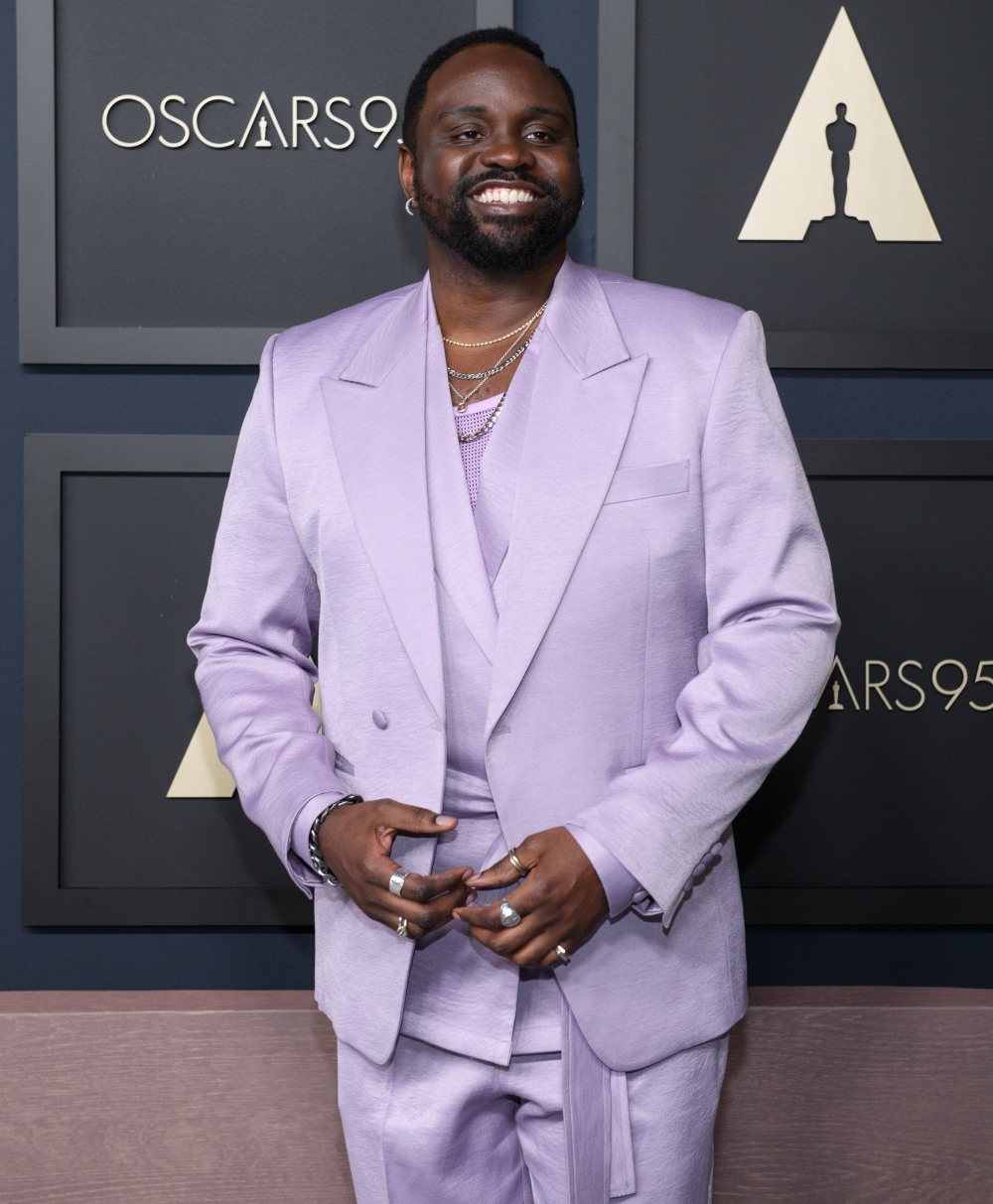 Here is our official 2023 Oscars Open Post, hosted by Brian Tyree Henry. Brian is nominated tonight in the Best Supporting Actor category for his role in Causeway. He hasn't gotten much attention because Supporting Actor is basically the only category with a sure-thing winner: Ke Huy Quan in Everything Everywhere All At Once. Still, Brian has been enjoying his awards season and his first Oscar nomination. He recently spoke to the Hollywood Reporter about dressing for the awards season and how much he loves wearing "vibrant" colors. He also tries to support Black designers and Black-owned businesses, plus he doesn't like wearing baggy clothes – he wants to emphasize his "curves" too. He seems like such a special guy.
The Oscars start at 8 pm EST on ABC. Here in America, we're in the first day of Daylight Savings "spring forward," so bear with us if we're a bit out of sorts. This isn't just the Open Post, it's our live blog and we'll update this post with winners and highlights. We'll also be tweeting about the Oscars – you can follow me at @KaiseratCB, you can follow CB at @Celebitchy.
Best Supporting Actor: Ke Huy Quan for Everything Everywhere All At Once. This was not a surprise, but it was lovely and deserved – Quan literally picked up every major award ahead of the Oscars and he was grateful and inspirational at every awards show. What an incredible story! He started out by saying: "Ma, I just won an Oscar!" He spoke about his past: "My journey started on a boat. I spent a year in a refugee camp…This, this is the American dream! Thank you so much to the Academy…" He thanked his mother, his brother, everyone who worked on the film, his wife of twenty years. "Dreams are something you have to believe in. I almost gave up on mine!"
"Mom, I just won an Oscar!" Ke Huy Quan sobs as he accepts the #Oscar for Best Supporting Actor. https://t.co/ndiKiHfmID pic.twitter.com/92QIp3PRmS

— Variety (@Variety) March 13, 2023
Best Supporting Actress: Jamie Lee Curtis for Everything Everywhere All At Once. We should have known that this is how it would turn out when she won the SAG! Still, I'm really bummed for Angela Bassett, who really deserved it too. JLC thanked her team and the EEAAO team. It was wonderful to see her husband Christopher Guest, and to see her so emotional thanking her family and everyone she's worked with over the course of her career. She saved the best for last: her father and mother were both Oscar-nominated and she's the one who won the Oscar.
Best Director: Everything Everywhere All At Once From CB: The Daniels, Daniel Kwan and Daniel Scheinert, have won Best Directors for their film Everything Everywhere All at Once. Scheinert thanked his family, particularly his parents who didn't tell him not to dress in drag as a child and Kwan thanked his family who let him pursue his dreams. It was so cute when Kwan told his son he didn't have to live up "to this standard (points to Oscar) this is crazy I will love you no matter what." This is the second win of the night for EEAO. They previously won Best Screenplay.
Best Actor: Brendan Fraser for The Whale From CB: Brendan Fraser has won Best Actor for his transformative performance as Charlie in The Whale. He thanked the Academy, A24 films and director Darren Aronofsky for throwing his career a lifeboat. He also said he didn't appreciate his career until it stopped being easy, essentially. Brendan thanked his sons and family. It was sweet and well deserved, I'm looking forward to seeing him in more films and TV shows!
Best Actress. Michelle Yeoh won! I had a sinking feeling that it would end up being Cate Blanchett, but I'm so glad that in the end, Yeoh won! She deserves it! "For all of the little girls and boys who look like me, this is a beacon of hope…" She also said that women should never accept the idea that they're "past their prime." She dedicated the award to her mom and all the moms. She thanked her family and her extended fam. She was so moved! The first Asian actress to win Best Actress! So friggin proud of her!
Everything Everywhere All At Once has won Best Picture at the 95th Oscars! From CB: This was the seventh Oscar of the night for EEAAO. My favorite moment was when Ke Huy Quan ran up on stage and hugged Harrison Ford. He was the best person to present! We'll have full fashion coverage tomorrow.
Jamie Lee Curtis accepts the #Oscar for Best Supporting Actress. https://t.co/ndiKiHfmID pic.twitter.com/bGBtrI3k0g

— Variety (@Variety) March 13, 2023
Photos courtesy of Avalon Red, Cover Images.
Brian Tyree Henry attends the 28th Annual Critics Choice Awards at Fairmont Century Plaza on January 15, 2023 in Los Angeles, California,Image: 749951212, License: Rights-managed, Restrictions: , Model Release: no, Pictured: Brian Tyree Henry, Credit line: – / JPI Studios / Avalon
95th Oscars® nominee Bryan Tyree Henry arrives at the Oscar Nominee Luncheon held in the International Ballroom at the Beverly Hilton on Monday, 13 February 2023.,Image: 756016520, License: Rights-managed, Restrictions: ©A.M.P.A.S. All rights reserved. 310-247-3000., Model Release: no, Credit line: PAP / Avalon
32nd Annual Gotham Awards at Cipriani Wall Street in NYC.

Featuring: Brian Tyree Henry
Where: New York, New York, United States
When: 28 Nov 2022
Credit: Darla Khazei/INSTARimages.com/Cover Images